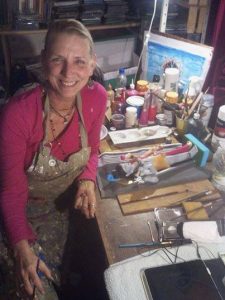 Hello I'm Elisabeth Sengers
My artist name is Sitadebi
I'm a devotional artist, creative therapist, spiritual advisor and
EFT/TFT master practitioner.
My Vedic art and restoration studio
Atelier Pranava is since 2004 located in Rotterdam, Netherlands.
As a spiritual artist and restorator am I specialized in cleaning, repairing, and restoring of your devotional, spiritual and religious paintings, wall-art, statutes, images and artefacts.
I work in my home art studio at my assignments and own collection paintings, drawings, Icones and etchings and other old traditional Vedic art techniques as palm-leaf- art and paintings on silk.
I'm also a designer and painter of wall-art, window and door decorations with different subjects and themes of your own choice and taste.
As a creative therapist and spiritual advisor, I offer counselling and
KDC (creative dynamic therapy) trajects for them who are in need of or interested to take care of their psycho-emotional hurdles and questions through creativity.
Chakra awareness counseling/therapy, yoga advise and mantra yoga classes and meetings
Please send your questions through the contact formula or e mail for more information and
have a look in the menu at ABOUT and my port-folios.
See you soon
Namasté
Please have a look at my portfolio's in the menu to see my latest art work.
Do you want to know more about what I can do for you or how I can be of any help for you?
Please get in contact with me.
Namasté